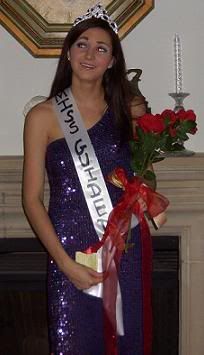 Saturday afternoon Kitty called me to say she did not have to Nanny and could make it the party. Saturday even later in the afternoon my cousin called to say she was en route from LA and pull a costume together from my grab bag. Jen showed up and we had a lovely dinner with my parents and then the costume change began.
The only casualty of the the night were my roses which we abducted from the dance floor sometime around midnight. The party was a friend of a friend's and was fantastic. The house was decorated from candles curb side to a pinata filled with candy in the far corner of the backyard.
(
Halloween
Collapse
)
There she is.....
Current Mood:

amused
I woke up at 5:45 this morning to take my roommate to work. Why? Because I am the best roommate ever. His car is in the shop and other than the whole 5am thing it will work out fine for me to drop him off and pick him up for the rest of week. I am looking at it as a way to get my butt out of bed and be extra productive for the next few days. I took the opportunity to get a paper because I have not been doing my usual morning ritual which is to get a cup of coffee and read the morning news from
http://www.latimes.com
. There is something nice about reading a tangible paper. I am totally out of loop on current events.
Here are some photos of my pumpkin this year. Mine is the one with leaves.
(
photos
Collapse
)
Here is a random rant with photos
Current Mood:

awake

So here is how you know your boyfriend will be home in less than 40 days. My body is recked. My teeth are also bleached and getting whiter by the day but that is a different story. I thought it would be a good idea to hit the gym yesterday. I have not gone since March. Bananas and Ibuprofen are my new best friends today. I am a masochist and going back for more tomorrow. Todd can do the ten minute mile in seven. According to the " brisk walking machine" I can do it in 1/2 an hour. Not good.
Also, I thought my Mom was joking when she said that her and my Dad would pay for glasses if I started suffering from eye strain from all the reading I would have to do in law school. I had another migraine yesterday after reading 40 pages. I tried to read but could not see through the spots. Ugh.
My friends and I have decided that the legal books where written in 10 font and the pages have a consistency of a Bible. I am heading next week to maybe get glasses. If not glasses then the migraines may be neurological so I am hoping for a new look over trying to conquer migraines again.
Good news, one midterm down, one today and one next week and I am done. House party this Saturday at my place. My roommate is grilling camerones for tacos and making tons of homemade enchiladas to impress his new "lady friend". I am only required to pick up tamales and a case or two of Coronas. Can't wait to blow off some steam with a fiesta!!
My favorite Cousin in coming out from Jersey (the lady licking the nipple of the mannequin in the luau picts) for Halloween weekend. Must find a party! Knowing her we can make our own party at any bar!
Must study!
It has come to my attention that even after a pict post I received only one reply (thanks sean). Bummer. The entire point of posting to me to get reactions and comments from friends. Sux.
Current Mood:

geeky

Current Music:

Coldplay - Fix you
Akkk. I went to bed to early and now I am up. Ugh! Now is as good a time as any to upload picts!
Here are the photos of my Nanny and I. Picts from this weekend.
(
tons_of_phots
Collapse
)
Sorry for the delay
Current Mood:

blah

Current Music:

the sound of the rain

Friday night I ended up DD for Kitty and I. I got my hair and nails done on Friday afternoon. My hair dresser called my color "Funky Red". It is rather bright and red! I love it!
Kitty came by my apartment and we drove to San Clemente Friday night for an acquaintances birhtday party. I found a birthday tiara in the girls bathroom and he was too drunk to notice and wore it all night. Classic. The live reggea band was fantastic and filled the night with good vibes. Somehow we ended up hanging with a large number of Peruvians. Did you know that if you are married in Peru you wear your wedding ring on the right hand? I got schooled. Who knew? Thanks to my mutt-ish ethnic background I was able to hold my own when asked "Are you from Peru?" to which I replied, "No, Yo soy de Dana Point". Thank God for my menial high school Spanish classes. Kitty and I bailed and ended up at Red Fox Lounge. One of the dodgiest of dodgy bars. Fantastic night but I wanted to leave before all the drunkards were out of the bars and cops were on patrol. I went out to my car to leave which was right next to cop cars that were "spooning". I looked at the officers, they looked at me. I said "Evening" got in my car and got out of there. Kitty spent the night and we talked until 3am and somehow we were up for bagels at 7:30am. I spent most of Saturday sleeping in.
Saturday night was a friend's bday party. I am so bummed I left my camera at home charging. There was a juggler, an opera singer and it was a cocktail party so everyone was dressed up. I didn't plan to stay that long because of studying for midterms. So much for my 10pm plan. I did not get home until 12:30am.
Now I really need to study except I think I am starting to get a migraine. Is the computer sceen supposed to have spirally spots. Crap. This is my fourth one this week. Law school anyone? I did get great news from a friend but have to wait until Christmas to divulge. YAY!
Will post picts later;
Current Mood:

ecstatic

Current Music:

silence, what part of a migraine don't you understand

I am making plans for the weekend since I have been studying like crazy for midterm. Bit of a bummer but all over by the end of next week.
Tomorrow will be a day of pampering; nails,hair and shoe shopping for my dress for Sat....and a little studying.
Saturday evening, I have to go to a party where cocktail dresses are MANDATORY. Thank God, finally I can get fancy, shamsy! I miss that.
Sunday the 23 is Knotts Scary farm for a b-day party.
I spoke to Todd today. He was called up to do back up infantry and later was not needed. Whew!
Today had its ups and downs but ultimately was a good day. I even got a call from my bro in NZ. Nice!
BYW, early advance...New Years Party at my pad!
Best part about my test tonight? NO TEST! My teacher had something personal happen and forgot the exams and his glasses. Take home test! Sweet!
Current Mood:

thankful

Current Music:

Foo fighter - times like these
I have a tort midterm at 7pm. Why am I on lj you ask? I procastinate like you would never believe. I sent off a practice test to my professor and never got a reply. I don't think that is a good sign. Is he just trying to mess with head? I cannot wait until I am done with school. I don't like wasting my time bitching about professors but somethings must be done.
I had dinner with a Nanny that used to take care of me from when I was in 3rd grade until I was 18. Trip out!
segrada when you see the picts that I will hopefully post tomorrow you will TRIP OUT. I have been keeping it pretty much on the DL </span>
behindtheseiii,
segrada,</span>
ritchgirl and
juliabulia be on the lookout for packages. Thank Juliabulia and the snow in CO. She needs her package pronto so you guys get your packages early!
"Rich text" option is being funky!
Current Mood:

anxious

Current Music:

Damian Rice, "O"
I have noticed that I have become rather crafty while Todd has been away. I think it has worked as one more way to keep me sane. Law school has not left me much time for knitting but I have put a dent in my Christmas ornaments for my friend's and my Ornament Exchage. This year it is going to be international event with assorted ornaments going to Germany and New Zealand.
juliabulia started this a few years back so that for when us girls got our own homes and our own trees, the trees would be filled with ornaments that our friends have made for each other over the years. It really is quite a nice idea.
behindtheseiii and
tweetybored are also in on the action. I have a mini assembly line going. Who wants in on the action?
Current Mood:

sleepy

Current Music:

Norah Jones - Creepin' In
I've done this before. But just so ya'll know...
If there is at least one person in your life whom you consider a close friend, and whom you would not have met without the internet, post this sentence in your journal.